Ceiling Fan Installation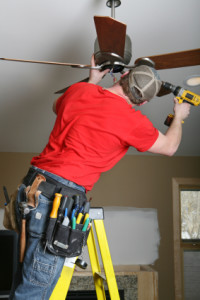 Installing a ceiling fan in your home or business not only helps provide a nice cooling effect on hot, humid days, but it also enhances the decor of any room. Ceiling fans are an effective way to disperse cooking odors, smoke, and stagnant air. If you're looking for a way to improve indoor air quality and the comfort level of any room, installing a ceiling fan is a cost-effective solution. The only cautionary note about ceiling fan installation is that it's a project that's better left to professionals. Ceiling fan wiring needs to be done correctly and safely in order to avoid malfunctions and possible fire hazards. There are also potential pitfalls to properly securing a ceiling fan to the ceiling, and a failure to attach the unit appropriately can result in property damage and injury. The only surefire way to avoid frustration and safety risks is by hiring experienced ceiling fan installers to get the job done right. When you need professional help with ceiling fan wiring, lighting, and installation, call our pros at VIP Electric.
We're licensed, bonded, and insured electricians in Las Vegas who can take the hassle and risk out of installing a ceiling fan or attic fan. When you turn the job over to us, you can have the peace of mind of knowing that your ceiling fan install will be done flawlessly and efficiently. Give us a call today to begin enjoying the benefits of improved air circulation in your living space or work environment. Ceiling fans are one of the most cost-effective ways to add comfort and visual interest to virtually any setting, and when you have them professionally hooked up, the installation process is fast and hassle-free!
With 24 years of experience installing ceiling fans, exhaust fans, and bathroom fans, we have the skills and expertise to ensure a safe and secure ceiling fan install. When you choose VIP Electric, you also get the added assurance of our one-year warranty on parts and labor. Our objective is to provide a level of service and craftsmanship that will always surpass your expectations.
Serving residential, commercial, and industrial customers in the Las Vegas area, we're the family-owned business you can depend on for all your electrical wiring, ceiling fan lighting, and installation needs. We're also the electricians to call if you need troubleshooting expertise and professional wiring repairs. Contact us today for a free estimate.
ceiling fan install
ceiling fan wiring
install ceiling fan