Electrical Panel Upgrade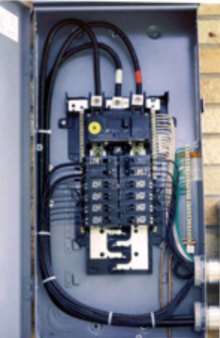 Are you seeing signs that your home or business is unable to handle the power demands being placed on its electrical system? The telltale signs that a service upgrade is needed are often flickering lights, appliances not operating at capacity, or breakers that trip frequently. This is not an uncommon problem because as a business grows and home electronics become more advanced and numerous, electricity use increases. While the capacity of your electrical panel and service may have once been a good match for the demands placed on it, all that may have changed with the addition of new computer equipment, appliances, or a home theater setup. If you think your home or business might be in need of a service upgrade, give us a call at VIP Electric in Las Vegas. We're experienced in providing electric upgrades for residential, commercial, and industrial customers, and we'd be happy to customize a solution for you.
An electrical panel upgrade can involve just replacing an outdated or damaged panel itself or can include upgrading the panel, the meter socket, and the attached wiring as necessary to increase the building's electrical capacity. As part of the service upgrade, we will evaluate your electrical panel's functionality, identify and correct any unsafe wiring conditions, and ensure that your building has proper electrical system grounding and a functional ground fault circuit interrupter (GFCI) on the required circuits. Another feature of our service involves whole-house surge protection measures to help your electric system accommodate those high demand times when a lot of electronic devices and appliances are running simultaneously. Call us today for a free estimate on our electric upgrade services.
At VIP Electric, we're a family-owned business that takes pride in the quality of our craftsmanship and our extensive experience. We're well-versed in the rules, regulations, and electrical codes applicable to your home or business and place a high priority on your safety and the long-term viability of your panel upgrade. Our 24 years of experience in the electrical service field and our commitment to customer service are two of the many reasons you can place your trust in the professionals at VIP Electric. Our troubleshooting and diagnostic skills are second to none and you get the added assurance of our one-year warranty on parts and labor. For a top-notch electric upgrade that will provide you with the ability to handle the growing demands of your family or business, call or e-mail us today. We look forward to hearing from you!
Electrical Service Panel Upgrade
Electric Panel Upgrade
Breaker Panel Cost