Generator Installation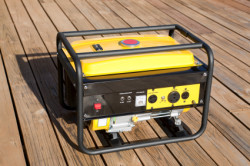 It might happen just a couple times a year, but when there's a power outage to your home or business, the losses can range from food spoilage and lost productivity to potential health and safety issues. There's also the inconvenience and discomfort of being in the dark and not being able to cook food, take a hot shower, or watch TV. That's actually the short list of problems you encounter when you lose electrical power. If weather conditions are exceptionally hot or cold, the temporary loss of your heating or air conditioning system presents another major set of problems. The good news is that this entire scenario can be prevented by taking advantage of our standby generators installation service. If you're tired of being left in the dark when your electrical service is knocked out, give us a call today at VIP Electric. Serving Las Vegas and surrounding towns in the area, our generator services will ensure that you have full use of your lights, electrical appliances, and climate control system the next time a power outage hits your neighborhood. Call us now for a free estimate.
With 24 years of experience as certified electricians, generator installers, and repair experts, we're the local professionals to turn to for generator services, repair, and installation. We'll assess your requirements, discuss the options with you, and customize a solution that will meet the needs of your family, business, or institution. Take action now to prevent future power outages from causing you hardship, inconvenience, or financial losses. Electrical outages happen for a variety of reasons and are beyond your control. There is one thing you can take charge of—and that's your level of preparedness for power loss. As certified electricians and experienced generator installers, we're qualified to help you with generator repair services, standby generator installation, and much more.
For all your residential, commercial, and industrial generator needs, you can depend on the service, the repair expertise, and the electrical wiring skills of our seasoned professionals at VIP Electric. If you need generator wiring repairs, we'll accurately troubleshoot the problem and provide you with cost-effective generator services that will have your electrical backup system working at full capacity in no time.
When you choose VIP Electric for all your generator installation and repair requirements, you also get the added assurance of our one-year warranty on parts and labor. When experience, top-notch craftsmanship, and quality assurance are what you're looking for, call our team of certified electricians at VIP Electric. In addition to our skills as generator installers, we're also highly qualified as a generator repair service, so we have you covered no matter what!
generator install
generator installation
generator services