Home Theater Installation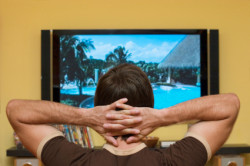 If you've been dreaming about having a home theater setup at your house, you may be pleasantly surprised at how affordable it can be. Regardless of how simple or elaborate you decide to make your home theater system, the improvement you'll experience in both audio and video quality will be remarkable. Find out about the many options available to you by calling VIP Electric in Las Vegas. Our certified electricians are experienced home theater installers and can help you plan and design a home theater setup that will fit your budget, your goals, and the layout of your TV room. With 24 years of experience in all aspects of home wiring, TV cable wire installation, and home theater audio systems, we have the knowledge and technical skills to create the optimal home theater experience for you and your family. For a free estimate and more information about installing a home theater, give us a call today at VIP Electric.
Your home theater installation package can include a wide range of features and components, ranging from surround sound audio installation to the complete integration of a high-definition flat screen TV, Blu-ray DVD player, and much more. At VIP Electric, we provide a variety of home theater wiring, TV cabling, and system integration services to help you make the most of your home entertainment center. We offer complete home theater installation and design, wiring, and flat screen TV mounting and installation for your convenience.
If you choose surround sound as part of your home theater install package, we'll run the necessary cabling inside your walls to achieve the optimal effect—both technically and aesthetically. Every aspect of your home theater installation will be based on your personal preferences and the features you decide to include in your system. Our role will be to provide you with the technical advice and top-notch installation services you need to achieve a home theater experience that surpasses your expectations. Whether you're envisioning it as an expansion of your current system or the creation of a new, full-fledged home theater experience, we can make it happen for you!
Take the first step now by calling VIP Electric. Once we get your home theater setup completed, sports viewing, favorite TV dramas, and movie nights at home will never be the same! Even cooking shows, sitcoms, and awards programs will take on a whole new dimension.
Home Theater Installers
Home Theatre Installation