Landscape Lighting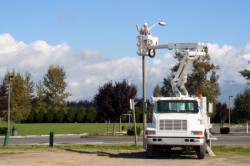 Does the outside of your home or business look dark and uninviting at night? Landscape lighting can solve that problem and add appeal to the appearance of your property. Outdoor landscape lighting actually serves several important purposes ranging from safety and security to simply enhancing the design of your garden or front walkway. The key to getting your landscaping lighting properly installed is to call our licensed electricians in Las Vegas. With a total of 24 years of experience in lighting installation, the skilled electricians at VIP Electric will get the job done right. Whether you're interested in walkway lights, solar landscaping lights, or low-voltage landscape lights, our pros can help you show off your property to its best advantage. Improved outdoor illumination not only makes it safer for walking and finding your way around, but it helps make your home or business more secure after dark. Call us at VIP Electric for a free estimate!
Some local electricians just provide basic lighting installation and repair services. At VIP Electric, we do that and a whole lot more! Our versatile professionals can help you with landscape lighting design and provide you with helpful tips on creating the optimal outdoor lighting plan for your home or business. In addition to security and walkway lights, we can work with you to achieve a variety of other desirable effects on your property:
Accent lighting
Spotlighting
Architectural lighting
Deck and patio lighting
Our professional landscape lighting installation services will ensure that all wiring is done according to the highest safety and quality standards. By having our experienced electricians handle all the details of your landscaping lighting, you can look forward to long-term performance and care-free operation of your outdoor lighting system. If you're interested in some of the high-tech options available in landscaping lights, give us a call to discuss the possibility of installing motion sensors, LED landscape lights, and more
Whether you want to illuminate your garden area with outdoor landscape lighting or have attractive walkway lighting installed, we can provide you with the expertise and quality craftsmanship you need to meet all your goals and requirements. VIP Electric is a licensed, bonded, and insured business that provides one-year warranties on all parts and labor. We can also be depended on to provide support after the sale, so if you have any questions or service needs, we're always just a phone call away. Since outstanding service is one of our top priorities, you can rest assured that every customer is a VIP customer!
outdoor landscape lighting
low voltage landscape lights
landscaping lights
walkway lights