Residential Electrician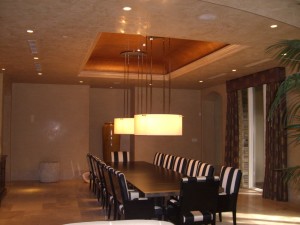 There are many ways the condition of your home's electrical system can affect the quality of life for you and your family. Inadequate lighting, for example, can impact your ability to read, enjoy mealtimes, or keep your home safe and secure. House wiring that's faulty or obsolete can not only be a source of frustration, but it can also pose a potential fire hazard if it's not updated. There are dozens of reasons you might need a certified electrician to keep your household running smoothly and safely, but it's not always easy to find a local electrician who can meet your needs. In addition to experience, you want a residential electrician who provides warranties and great customer service. At VIP Electric, we not only offer a full range of electrical services that all homes need, but our 24 years of experience and commitment to top-notch customer service will ensure that you're fully satisfied with every electrical repair, installation, or service upgrade that we do for you. Our one-year warranty on parts and labor is just one way our customer service is superior! We're residential electricians who strive to provide top-quality craftsmanship, and we back it up with guaranteed work. When you need any kind of residential electrical service in the Las Vegas area, call the experienced, certified electricians at VIP Electric. 
Do you need light fixtures installed, repaired, or updated in your home? We have the skills and experience to handle all your requirements, including track lighting, recessed lighting, and low-voltage lighting. Whether you're looking for a certified electrician in Las Vegas to install dimmers, chandeliers, or outdoor lighting, you can always count on the residential electricians at VIP Electric.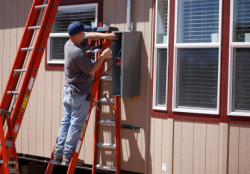 Do you need a generator installed or want to explore solar electric panels? From wiring to installation and beyond, we offer just about any residential electrical service you could need for your home. Our array of other home electrical services includes:
Generator installation
Swimming pool and hot tub wiring
Outdoor landscape lighting
Phone cable wiring
Electrical inspections
Electrical service upgrades
Solar panel systems
Energy-saving lighting
Whole-house surge protection
Network cable installation
Expert troubleshooting and repairs
For your safety and the safety of your family, make sure all electrical wiring, installation work, and residential electrical repairs are done by a certified electrician. Call our local electricians in Las Vegas for quality workmanship, outstanding service, and effective solutions to all your residential electrical problems.
Home Electrical Repairs
Trying to fix your own electrical malfunctions can not only be frustrating but unsafe. Avoid possible electrocution risks or fire hazards by turning the job over to a certified electrician. Our team is well-versed in all aspects of safe and effective wiring, and we are experts when it comes to troubleshooting and fixing your residential electrical problems. Call or e-mail us today for more information and a free quote.
Electrician in
Home Rewiring
Master Electrician
Electricians in
Electric Service Upgrade
Electrical Contractor