Swimming Pool Wiring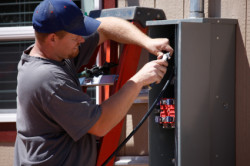 Maintaining just the right balance of chlorine and other chemicals in a swimming pool is essential to keeping the water clear, visually appealing, and healthy to swim in. If you've achieved the ideal balance of chemicals in your pool and, all of a sudden, your pool water stops circulating, that ideal water chemistry will be going south before you know it. Whether you're dealing with a public or private swimming pool, it won't be long before the water is unfit for anyone's use. If you're grappling with this problem right now, give us a call. Our certified electricians are experienced with pool wiring problems and can effectively troubleshoot your difficulties. With 24 years of experience in fixing all kinds of swimming pool electrical malfunctions, our skilled electricians at VIP Electric can resolve electrical problems with both the lighting and filtration systems so the safety of your swimming pool won't be impacted for long.
Whether you need pool wiring, pool light repairs, or hot tub wiring, VIP Electric has the know-how and expertise to restore full electrical functionality to your system. We're qualified to handle both residential and commercial pool wire jobs and would be happy to provide you with a free estimate. Don't wait until the algae and bacteria start getting a foothold in your otherwise well-maintained pool or hot tub, or for the lights to flicker and go dark. Call our certified electricians to make sure all your pool wiring is fully functional and that your pool is a healthy place to swim. We have the training, experience, and knowledge of pool electrical circuitry to solve your pool wiring problems quickly and efficiently. For your additional peace of mind and protection, we also provide a one-year warranty on parts and labor.
Hot Tub Wiring
Hot tubs can be a relaxing and therapeutic environment to unwind in, provided they're functional and working properly. If yours isn't, we can effectively troubleshoot the problem and get it fully operational again. Our team of local electricians has been repairing hot tub electrical wiring for years and can make the necessary adjustments and repairs to restore your hot tub to full functionality. Attempting to fix hot tub electrical connections on your own can result in damage to your hot tub, as well as possible personal injury. So whether you need help with a hot tub hookup or electrical wiring, the safe and effective choice is to call our licensed electricians at VIP Electric for professional assistance.
Swimming Pool Wiring Repair
Pool Wiring Repair
Pool Hook Up
Pool Wiring
Inground Pool Wiring